Watermark WordPress Files plugin allows you to watermark and embed your PDF document directly into your content with a cool PDF viewer. The plugin also helps you export your page and post content into a PDF file with just a single click and many more.
Features
Watermark WordPress PDF Files
Watermark your WordPress PDF files with a custom text and just one click. There are options to customize its position, color, opacity and font size. You can also preview the watermark before applying it to your actual PDF files.
Watermark any PDF file under Media library with a single click
Integrate with Ninja Forms to watermark file uploads on the fly
Watermark other file types including JPEG & PNG (WIP)
Watermark files via an uploaded file (WIP)
Compressed and encrypted PDF files are not supported at the moment
It's also possible to automatically watermark new PDF file uploads via Ninja Forms
Show Preview but Prevent PDF Downloads
Embed PDF files into WordPress content
Embed PDF files into your existing WordPress pages and posts with our friendly UI popup within your WordPress Classic editor. No coding nor even typing shortcodes involved.
What's more, your documents are embedded using pure Javascript and HTML5 canvas. As a result, you'll have full control over its appearance, i.e. viewer's width and height plus toolbar's appearance.
Since version 1.2.0, the Watermark plugin works with Amazon S3 extension to support embedding and protecting PDF files hosted on S3 bucket.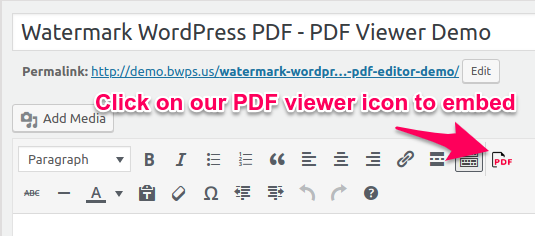 Prevent users from download PDF Files
Our PDF viewer is working with Prevent Direct Access Gold to prevent average users and tools from downloading your original PDF files. Main features of our PDF viewer –  more advanced and exciting features are coming up:
Zoom: automatic zoom, actual size, fit page and full width plus the default zoom in and out
Search: find specific text or keywords on your document content
Full-screen mode: view your PDF content on full-screen
Mobile responsive: your document will look great across devices and platforms
Secure PDFs: stop average users from "Inspect elements" or using IDM to download your original PDF file
Track the number of downloads and views with Download Links Statistics extension (WIP)
Bookmark your current page: get a specific link to your current page in view (WIP)
Export WordPress Content into PDF
Export Individual WordPress Pages/Posts to a PDF File with just One-Click
Export any WordPress published pages and posts into a PDF file with a single click. You can customize the PDF template as well.
Export Multiple WordPress Content to a single PDF file
Select multiple pages and posts then merge them into one PDF file through a friendly user interface.
You can also add a header, footer, image cover, table of contents or display page numbers on the PDF.